BEST MOBILE – LAPTOP REPAIRING INSTITUTE DELHI
Become an Expert Mobile & Laptop Repairing Technician
Delhi is the capital city of India having an approximate population of more than 11 million. Out of these numbers, a majority of people use mobile phones and face numerous problems in their handsets every day. But, unfortunately, the demand for mobile engineers in the state is more and supply is less. Hi-Tech Institute understands this ever-increasing need of mobile technician and offers Mobile Repairing Course in Delhi. We are premier mobile and laptop repairing institute in Delhi.
We offer 3 Months, 1 Months Smartphone Repair Training so that students able to fix software problems like hanging, network IC problem, touch problem, application problem, WI-FI not working, mobile getting slow down problem, password broken, etc and in hardware like battery drain, SD card not recognize, SIM not recognize, problem, audio jack, display problem, partially or total dead or more.
Laptop Repairing Course Delhi- Chip Level & Card Level
Today laptop technology is more compact, user-friendly, portable, fast and easy to access. Millions of people prefer laptops with high processing power as compared to personal computers. Owing to this fact there is increasing demand for laptop engineers in the market who can fix all types of laptop software and hardware issues. Hi-Tech, a leading technology institute offers basic to advance laptop repairing Training in Delhi NCR.
Laptop card level a (1 month) and laptop chip level course (3 Months) in which we train students in line with the latest technology and charge affordable course fees. Being a reputed laptop repairing institute having branches in Karol Bagh, Peeragarhi,  ashram chowk, Badarpur, Kanpur and 5+ other location in all over India, we have trained thousands of students in repairing of laptops from various brands and other related electronic devices. After completion of this course, the student can easily resolve laptop problems like corrupted software, virus detection, and removal, display performance, replacing RAM and much more.
Get Discount in Following Courses-
Hi-Tech Mobile Technology (HMT) 3 Months
Hi-Tech Advance Mobile Technology (HAMT) 1 Month
Laptop Card Level (HLT) 3 Months►►►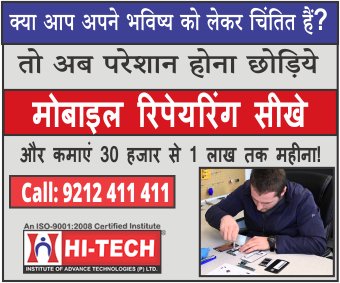 Mobile Repairing Training
When it comes to the mobile repairing course students always trust at Hi-Tech Institute. We have been serving for successive 15 years with best placement record.
We have trained more than 1000 students who are working in the reputed companie